Caffeine is a beautiful thing. But even the most die-hard addict needs to mix it up sometimes. Here, then, are seven alternative caffeine sources, whether you're rising early for work or burning the midnight oil.
Cacao Tea
Not to be confused with mate de coca — which is made from the same plant that yields cocaine — this beverage relies on both the caffeine and theobromine that occur naturally in chocolate. You can make it two different ways. The gringo way: Place a tablespoon of cacao nibs in a tea strainer and steep in hot water for a few minutes. Add sugar if you wish. The authentic way: Boil raw cacao powder (locals grind their own from a cocoa stick) with cinnamon, nutmeg, star anise, bay leaf and other herbs and spices for about five minutes. Let stand another five minutes, strain. Finally, add condensed milk (or just milk and sugar).
Penguin Caffeinated Mints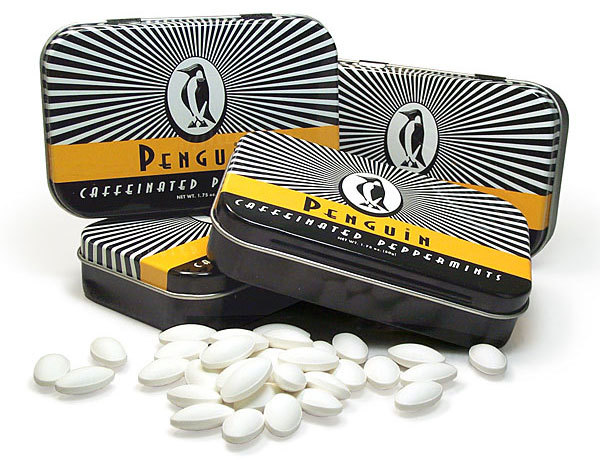 Created by two Seattle-based coffee grinders (who else?), Penguin's line of caffeinate mints can cure your coffee breath — or eliminate it entirely by helping you skip the joe in the first place. They come in peppermint, chocolate and cinnamon, and are available online via their website, peppermints.com, for about $31 for a 12-pack of 1.75 ounce tins.
Yerba Mate
Kind of like green tea, yerba mate is made from the leaves of the rainforest mate tree and is chockfull of caffeine. Argentinians have been drinking this earthy brew for centuries. While it's possible (and easier) to get your yerba mate from a tea bag, the authentic way is more social and sensual: Boil the loose leaves in water and pour into a special mate cup — essentially, a carved-out gourd with a metal straw. Having one's mate cup on hand at all times, and happily sharing it with friends, is a quintessential Argentinian habit.
Awaken Baked Cookie
Judging from the punny name, one wouldn't be wrong to assume this cookie is made for wake-and-bakers, aka pot smokers. But, no, the Cookie Department bakes these treats with the exact opposite effect in mind: to jack you up. Each Awaken Baked Espresso Cookie with chocolate chips and natural sea salt carries about the same kick as its namesake shot. Sure, there's more calories in a cookie than an espresso, but only one can cure the munchies, too.
Green Tea
It's a little-known fact that green, white and black tea come from the same plant (camellia sinensis); they're processed differently to yield wildly different results. Green tea, for example, is barely processed and undergoes minimal oxidation. Though often touted as a weight-loss tool, green tea has its fair share of caffeine — the amount depends on how long you let the leaves steep in hot water. (Pro tip: Go long.)
Il Morso Coffee Bars
The geniuses at the Il Morso food startup grind coffee beans like cacao beans and add cocoa butter to create a smooth, bite-size bar with a big kick. Try it in flavors like americano, mocha, coffee and cream, and matcha green tea. Each bar contains about 16 milligrams of marvelous, eye-opening caffeine.
Perky Jerky
If caffeine-infused meat sounds weird, you're probably not in Perky Jerky's target market of carnivorous Red Bull fans. (According to company lore, the founders invented their snack on a ski lift when they realized their virgin jerky had been soaking in Red Bull.) Unfortunately for its fans, the makers were forced to reduce each strip's caffeine content in 2011. The reason? Their caffeine source, the Brazilian berry known as guarana, is FDA-approved only as a flavor enhancer — not a caffeine source. Still, each serving still packs about the same punch as a can of Diet Coke.